This is an archive of the Dub Squad home page (circa 1995)
DUB SQUAD
PO BOX 14062
PORTLAND, OREGON 97214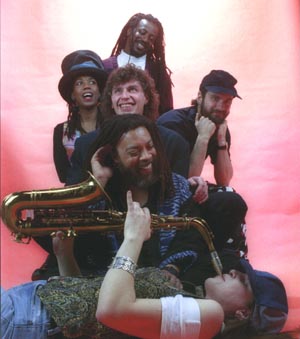 DUB SQUAD: (dub skwad) noun, 1. a music performance ensemble that has toured with UB40, performed with Ziggy Marley, Third World, Jimmy Cliff, Judy Mowatt, Burning Spear, Toots and the Maytals, David Lindley and headlined their own tour of Japan as part of The World's Fair Expo '90. 2. a recording ensemble that has released 2 albums; "Tonic of the People" and "Love is Rising" for the Tonic Media label (distributed by Burnside Distribution), 3. film performers and sound track contributors for the 20th Century Fox motion picture "Hear No Evil" starring Martin Sheen and Marlee Matlin (March 93), 4. Alan Alexander III (vocals, keyboards, flute, guitar, harmonica), Newel Briggs (lead guitar, vocals), Jim Daniels (bass, guitar, keyboards), Mary Sue Tobin ( sax, vocals, keyboards), Karen Searcy (vocals, keyboards), Brian Davis (drums, percussion).
"DUB SQUAD, a racially and sexually integrated unsigned sextet from Portland OR., are worth checking out in their own right. Their music is based strongly in reggae, but the DUB SQUAD experiments a bit with more traditional rock rhythms... This is an intriguing, interesting and commercial sound."
VARIETY (review of a sold out concert with UB40
at the Universal Amphitheater in Los Angeles)
"DUB SQUAD fashions an intriguing groove......'Tonic of the People' finds them squarely on their feet, with solid, catchy songs tucked neatly under their belts, boldly facing the future of reggae, broadening it's boundaries without losing it's appeal."

CMJ NEW MUSIC REPORT
" When Martin Sheen and Co. first came to town to shoot "Hear No Evil" they planned on filming a local gig ......the crew got a chance to hear about - then hear DUB SQUAD. That was all it took. The crew ended up shooting five tracks from the Portland band's excellent 'Tonic of the People' album."

THE OREGONIAN
"..The secret of the band's success seems to be a reggae/ska base, topped with a helping of rock and soul, some jazz and funk, and a dash of other Caribbean styles bound together with conscious and positive lyrics and musical imagination. Everything is anchored by solid bass and percussion with a buoyant and energetic, bouncing, swaying propulsion that'll keep dancers happy all night long. With its sense of purpose, it could well go far."

BAM MAGAZINE SAN FRANCISCO
"DUB SQUAD is an eclectic family of very talented musicians with backgrounds as diverse as the songs they play.......the members of the band have their roots in either jazz, funk or fusion and have incorporated all of these styles in their music to produce a unique reggae form."

POSITIVELY ENTERTAINMENT PORTLAND
"'Tonic of the People' a new album by Portland's DUB SQUAD ... impeccably played and produced."
THE OREGONIAN
For more information: drop us a line
---
DUB SQUAD

The Trip

1988
Dub Squad is formed in August. Original members: Alan Alexander III (vocals, guitar, flute, keyboards, harmonica), Newel Briggs (vocals, lead guitar), Karen Searcy (vocals, keyboards), Jim Daniels (bass, keyboards, guitar) John Sexton (vocals, sax, keyboards), Isreal Annoh (drums, percussion). A series of performances begins.

1989
Band opens for Ziggy Marley during his Portland visit (on the "Conscious Party" tour). Drummer, Isreal Annoh, is replaced by Brian Davis. Openings for Jimmy Cliff and Judy Mowatt follow. Dub Squad begins weekly Tuesday performances at the Key Largo nightclub in Portland. This weekly gig lasts for a year and a half. Band expands territory to Seattle and Hood River. The audience grows.

The band records and releases it's first album, "Love is Rising" on the Tonic Media label. National distribution is picked up by Important/Sony-CBS. Keyboard and sax player, John Sexton, is replaced by Melanie Kubik.

1990
Dub Squad tours with UB40. The tour ends with 3 sold out shows at the Universal Amphitheater in Los Angeles. The band is met with critical acclaim in LA.

Keyboard and sax player Melanie Kubik is replaced by Mary Sue Tobin. The band tours with Third World. Because of the exposure in LA the band is invited to headline a tour of Japan sponsored by Suntory. Dub Squad performs at Expo '90 in Osaka, Japan.

1991
Dub Squad records and releases "Tonic of the People", it's 2nd album for Tonic Media. The album is met with critical acclaim. Regional live performances continue.

1992
Dub Squad is contracted to perform in the 20th Century Fox motion picture "Hear no Evil". Five songs from the "Tonic of the People" CD are licensed to be used in the film. Shooting and audio sweetening take place during the summer. West coast performances continue throughout the year.

1993
"Hear no Evil" is released by 20th Century Fox in March. Dub Squad performs promotional gigs for Fox in Portland and Seattle. The movie is released on video in October.

Alan begins a promotional tour of Europe in November; visiting film and record companies in England, France and Holland. While in Holland, Alan receives a contract to compose and produce the score for "The Art of Ignorance" a Dutch film by Monique Van Doorn).

1994
"Hear no Evil" is released in Europe. The band is expanded to a nine piece with the addition of John Murell on trumpet, Carl Smith on percussion and the return of Melanie Kubik on alto and soprano sax. Performance schedule resumes with a series of summer concerts. In December, the band records tracks for it's third album live at Berbati's Pan in Portland.

1995
Post production begins on Dub Squad's 3rd album (working title "Caught") which is scheduled for release in the fall of this year
---